Last Updated: January 20, 2023
On Thursday, February 4th, 2021, Google announced major changes to keyword match types. Going into February, Google Ads will start phasing out broad match modifier as a keyword match type and will be expanding the reach of phrase match keywords.
How Will This Google Update Affect Advertisers?
Suppose an advertiser running a search campaign is using broad match modifier for the keywords: +moving +services +NYC +to +Boston
In this case, the ad may show up for the search query "moving services NYC to Boston" as well as "moving services Boston to NYC." While the first search term is relevant for the advertiser, the second one may not be. This new update by Google will help block out irrelevant terms as "the updated phrase match will not show ads for search queries in the opposite direction." (Source: Search Engine Land)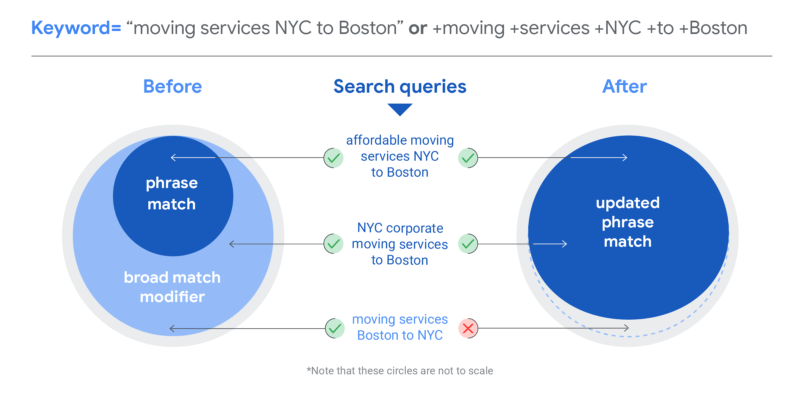 Along with this, ads aligned against exact match keywords will receive higher priority as compared to other match types for the same keyword, irrespective of the quality score.
What Are Some Next Steps?
Here are some next steps that advertisers should keep in mind after this update in keyword match types.
Make sure to have phrase match counterparts ready for the BMM campaigns/ad groups
Ensure that the quality score of exact match campaigns are on top in order to ensure good performance
What are your thoughts on this latest update by Google? Let us know in the comments section below. We will also keep an eye on more information that Google releases about the same and make sure we bring it to you!
Stay on top of the latest PPC trends and Google Ads updates online with ShiruDigi's digital marketing blog. Follow ShiruDigi on Facebook, Instagram, YouTube, and LinkedIn.
Looking for PPC Campaign Management Services?
At ShiruDigi, we are a team of digital marketing experts with practical experience in industries such as B2B technology, e-commerce, fashion, education, market research, fintech, among others. Reach out today to learn more about our quality PPC campaign management services and get a free consultation.
Read the Latest PPC Trends and Google Updates Online: