Last Updated: April 4, 2021
The coronavirus pandemic has shaken the world and has brought sudden shifts in marketing tactics. The main reason for this is because the pandemic has led to a complete lockdown in most countries around the world. Due to this, business has boomed for companies in industries such as e-commerce, food delivery, and entertainment. But, business has come to a complete stop for companies in industries such as travel.
Change in Marketing Strategies Due to Coronavirus
Because of the shift in lifestyle due to the coronavirus pandemic, companies are bringing a change to their digital marketing plans. One change that is coming through is what advertisers mention in their ad copy. The ad copy for many paid campaigns on search engines and social media platforms have started to revolve around the coronavirus, and how their brand is there to solve a problem during the lockdown.
Google Ads has launched a new ad policy to make sure that advertisers are not taking advantage of this pandemic. Google Ads has made the 'Sensitive Events Policy' more elaborate than it was before.
For those who have not gotten a chance to have a look at the policy, here it is:
New Sensitive Events Policy By Google (March 2020)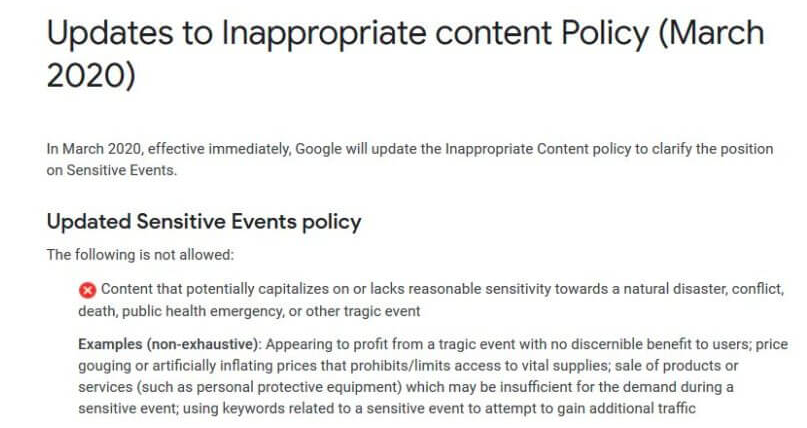 Old Sensitive Events Policy (December 2019)

At ShiruDigi, our aim is to bring you the latest digital marketing trends online in one place. Follow us on Facebook, Instagram, YouTube, and LinkedIn to stay up to date with any new articles that we publish.
Read More From Our Digital Marketing Blog: