Last Updated: April 16, 2023
Every website owner desires a high ranking in Google Search results. To get your website ranked on Google, you'll need the right tools and strategies. SEO is a time-consuming and continuing task, but WordPress has several resources to help. WordPress plugins for SEO can improve your site's security, page loading speed, and general performance.
Choosing the appropriate WordPress plugins for SEO may make or break your site's optimization, but bad plugins can harm a website's search engine efficacy and performance. This post will give you an overview of the best SEO plugins for WordPress, what they do, and why they might be useful for your business.
Best WordPress Plugins for SEO
Listed below are some of the best SEO plugins for WordPress.
Ahrefs
After years of being a go-to SEO toolbox for keyword research and other SEO statistics for campaigns, Ahrefs created a WordPress plugin to give more actionable information directly to your dashboard. Backlink analysis driven by its backlink index, SEO analysis based on data from your Google Analytics, and a content audit tool to provide real-time recommendations as you create content are some of its most distinctive features.
This plugin is ideal for PR professionals and social media managers. They can benefit from this type of data just as much as SEOs and content writers. Understanding your backlink profile can help you identify cooperation options and guest collaborators that can assist you to increase traffic to your website.
Plugin to Add Headers and Footers for Google Search Console Setup
Google Search Console is a free service given by Google to help website owners and webmasters monitor and maintain the visibility of their sites in Google search results. It tells you when Google is unable to crawl and index the pages of your website. You'll also be advised on how to resolve crawl issues.
Most importantly, it displays the keywords for which your website ranks, as well as anchor texts, average position, impressions, and other data. This information can be used to identify keywords for which you can easily rank higher by just tweaking your content. You can also utilize this keyword information to generate new blog article ideas.
For this setup, you'll need to install a plugin that will allow you to add an HTML code to the header of your website.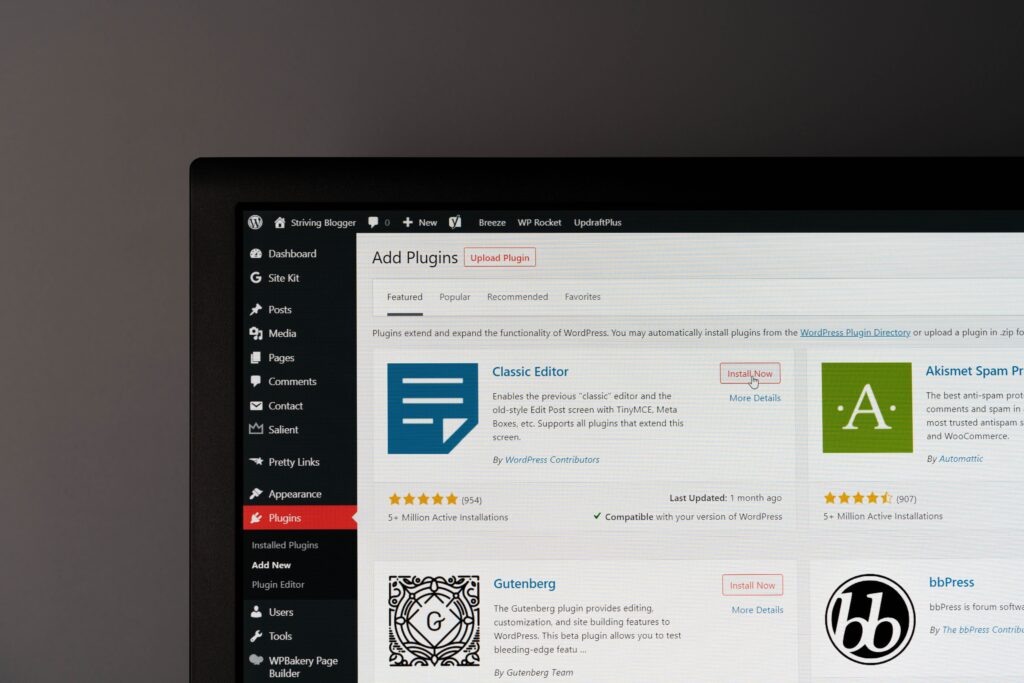 Yoast SEO
Yoast SEO Plugin is a popular WordPress SEO plugin for optimizing your WordPress website for search engines. It enables you to create SEO titles and descriptions for all of your website's posts and pages with ease. It also allows you to use Open Graph metadata and social media photos in your articles.
Yoast SEO generates an XML sitemap for all of your website's content, which makes it easier for search engines to index your site. It also makes importing your SEO data from another SEO plugin a breeze. Yoast SEO plugin provides a better user experience and it is enhanced by readability analysis, Google and social previews, and faster load times.
Redirection
In WordPress, redirection can help you create SEO-friendly redirects. It is a usefully broken link analyzer that allows you to simply fix 404 issues in WordPress by configuring redirects. Broken links can harm your site's SEO and cause a negative user experience.
WordPress Super Cache
Page speed has become an important ranking criterion. The WP Super Cache plugin can help you enhance the speed of your website's pages. All you have to do is install the plugin and enable caching. The rest of the work is done by the WP Super Cache Plugin. This plugin allows you to test the loading speed of numerous web pages on your website using tools such as GTMetrix or Pingdom Tools.
Everyone would like the best WordPress SEO plugin for their WordPress site. If you redesign your website, an SEO plugin allows you to easily transfer your settings from one theme to another without any difficulty. The SEO plugins listed above will undoubtedly help you with your website's SEO strategy. They've been tried and tested by innumerable webmasters and developers, and they've been shown to produce outstanding outcomes. With the right plugins and SEO strategies, your site can rise to the top of Google Search and can also be ranked at the top.
Get the latest SEO best practices and web development tips online with ShiruDigi's digital marketing blog.
For regular updates, you can also follow us on social media: Facebook, Instagram, YouTube, LinkedIn
Are You Looking for a Digital Marketing Agency?
ShiruDigi is a digital marketing agency that provides quality SEO services and is an equipped WordPress development company. Reach out to our team of experts today and get a free 30 minute consultation with no strings attached to see if ShiruDigi is the right fit for your business.
Read the Latest Digital Marketing Tips Online: